Welcome to the home of DNA Music Camps at the Black Range Lodge.
We invite you to join THE HARD ROAD TRIO at the historic Black Range Lodge on the edge of the Gila Wilderness for a unique New Mexico acoustic music experience, quality instruction and an outstanding gathering of players, singers and writers.
WE'RE HAPPY TO ANNOUNCE THAT WE'RE TAKING REGISTRATIONS FOR OUR 2022 CAMPS (See above for links to these camps):
Desert Night Acoustic Music Song Camp - Apr. 28-May 1
DNA Music Summer Camp with Wil Maring, Robert Bowlin, Steve and Chris - Aug. 18-21
Desert Night Acoustic Music Camp - Oct. 6-9 
Southwest Mandolin Camp - Oct. 27-30
THE STAFF AT THE LODGE AND OUR FACULTY WILL RESPOND TO THE CURRENT STATE HEALTH REQUIREMENTS. WITH AL FRESCO MEALS AND OUTDOOR CLASSROOM AND PERFORMANCE SPACES, THIS IS A GREAT PLACE TO MAKE MUSIC!
Our DNA MUSIC SONG CAMP happens Apr. 28-May 1 this year and we'll be offering both singing and songwriting tracks. DNA SUMMER CAMP is "more than a guitar camp" (please see the link above.) DESERT NIGHT ACOUSTIC MUSIC CAMP takes place over Columbus Day/Indigenous People's Weekend, beginning with happy hour on Thursday and closing with a  concert which is open to the public. After a great response to our first two SOUTHWEST MANDOLIN CAMPS, we'll be back Oct. 27-30, 2022 for the third!
Our first Urban DNA Music Camp took place Jan. 17-19, 2020 in beautiful Tucson, AZ at the 17th Street Music Club. Thanks to all the faculty, participants and great folks at the Music Club. We'll keep you posted for the next!
Thanks to all the wonderful folks who have come from as far away as Minnesota, Maryland, Arkansas, Texas and Colorado, along with participants up and down Interstate 25. You've helped us grow DNA Music Camp into an excellent music destination. See below for photos of our esteemed alumni: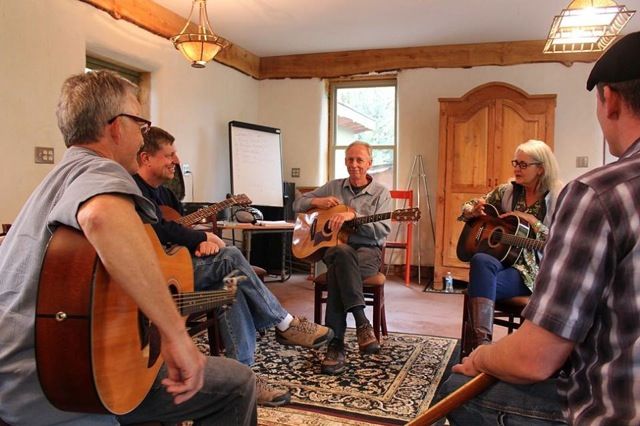 Desert Night Acoustic Music Camps Offer:
Classes in mandolin, banjo, bass, guitar, fiddle, voice, and songwriting 

Seminars in effective ensemble and musician self-care 

Yoga-based stretching and relaxation sessions 

Chair massage on site 

A beautiful setting and fresh, delicious food
Smaller class size, individual attention and opportunities to study and play outside

Opportunities to perform with other players and faculty for other campers and the public 

Faculty concerts 

 

Fun jams for all
Meals and lodging are arranged separately with the Black Range Lodge. Please contact Catherine at 575.895.5652 or cat@blackrangelodge.com for reservations and information. Camping spaces are available.